UNIVERSITY DESIGN STUDIO
Re-act Lab: São Paulo Architecture Experiment
12 - 22 August 2010
A design studio with public lectures initiated by ANCB with Elisabete França and the Secretaria Municipal de Habitação of the city of São Paulo (Sehab) and S.L.U.M. Lab Columbia University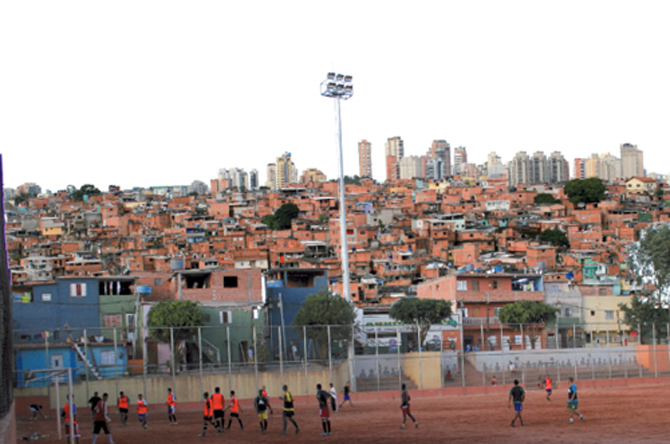 About Re-act Lab
The ANCB series Re-act Lab has a potential-focused rather than problem-focused agenda. It confronts the particular challenges of cities or regions throughout the world by facilitating transdisciplinary enquiry into appropriate and responsible actions in architecture and urbanism. This 10-day Re-act Lab research studio will introduce a group of advanced students from across the world to the realities of Brazilian cities and provide the wider public with internal and external perspectives on these. In a series of public lectures and discussions the studio will: introduce São Paulo's metropolitan area by revealing the contrasting morphologies and urban tissues produced over time; address the critical role of everyday life in the experience of urban space; question the possibilities created for architecture and urban planning when housing basic municipal services-key structures in improving quality of urban life; and highlight the need to develop partnerships between the city planning authorities and urban pioneers, in order to build liveable cities at the beginning of the 21st century.

PUBLIC LECTURES
Date: August 12 and 13 2010
Place: ANCB, Christinenstr. 18-19 (Pfefferberg), 10119 Berlin

Programme
Thursday, August 12 2010
3.00pm - 6.30pm

Welcome
Hans-Jürgen Commerell, Director ANCB

Introduction
Alfredo Brillembourg and Hubert Klumpner, S.L.U.M. Lab, Columbia University, Marcos L. Rosa, Technical University Munich and Estúdio Tático, Eduard Kögel, Habitat Unit TU Berlin

The informal city in the 21st century: plans and projects
Elisabete França, Secretary of Housing Department City of São Paulo (Sehab)

Urban development planning in Berlin - current framework conditions and projects
Reiner Nagel, Berlin Senate Department for Urban Development

6.30 pm
Exhibition Openings: Measure of Man-Measure of Architecture and The Informal City of Century XXI

Friday, August 13 2010
10.30am - 1.30pm

Spatial Planning and the Environment. The specificity of urban planning: design and politics
Henk Ovink, Netherlands Ministry of Housing, Spatial Planning and the Environment

Research Focus "Mobility Cultures in (Mega-)cities"
Irene Feige, BMW Institute for Mobility Research

Urban ropeways: An alternative means of transportation
Andreas Rudolph and Anna Katharina Rudolph, Doppelmayr

Lunch

2.30 - 6.30pm

Designing São Paulo: scales and approximations
Luis Octavio Faria e Silva, Escola da Cidade, São Paulo

Converging Methodologies in Urban Design
Barbara Hoidn, University of Texas and Hoidn Wang Partner

Educational Infrastructures
Markus Dochantschi, Studio MDA New York and Frankfurt


DESIGN STUDIO
Date: August 12 -22 2010
Place: ANCB, Christinenstr. 18-19 (Pfefferberg), 10119 Berlin

After the opening lectures and discussions, an intensive design studio will explore the potentials of the relationship between existing formal and informal urban realties in cities of the southern hemisphere with Paraisópolis, in the Morumbi neighborhood of São Paulo as a test site. Structured into three modules, the design laboratory will:
Explore alternatives to vehicle transport and develop scenarios that integrate infrastructures at both macro and micro levels to activate urban life,
Respond to the urgent demand for new housing and quality urban space, and
Explore the capacity of micro infrastructures to remodel the existing built, real city.
The aim of the design studio is to generate visions beyond current trends in order to find long-term solutions with the potential to transform cities. It will investigate the process of moving from pilot projects for connected housing and micro-infrastructures to comprehensive design policies and strategic planning. It will consider the possibilities for designing better quality environments through the provision and retrofitting of micro-infrastructures and local-scale interventions, based on cutting-edge technologies for a range of issues including mobility (e.g. cable cars, funiculars and electrical vehicles), public lighting and illumination, public utilities (e.g. garbage collection and disposal), alternative energy production, and the management of traffic flows and parking.

Working with local experts from São Paulo and international experts from across the world, a team of 18 participants will generate proposals for transport infrastructure, micro infrastructure and housing in São Paulo. These proposals will be presented to, and discussed with, a panel of invited critics in a closed session t and exhibited to the public.

FINAL PRESENTATION
Date: Saturday, August 21 2010, 11am - 6pm, CLOSED SESSION
Place: ANCB, Christinenstr. 18-19 (Pfefferberg), 10119 Berlin

Welcome
Hans-Jürgen Commerell, Director ANCB

Opening words
Ute Weiland, Deputy Director Alfred Herrhausen Society

Introduction
Alfredo Brillembourg and Hubert Klumpner, S.L.U.M. Lab, Columbia University; Marcos L. Rosa, Technical University Munich and Estúdio Tático; Eduard Kögel, Habitat Unit TU Berlin

Invited Critics include: Maria Auböck and Janos Karasz, Akademie der Künste, Munich; Markus Bader, Raumlabor; Stephan Brändle, Doppelmayr; Martin Rein-Cano, Topotek; Maria Teresa Diniz dos Santos, Sehab-Municipality of São Paulo; Luis de Faria e Silva, Escola Da Cidade, São Paulo; Kristin Feireiss ANCB and Aedes Berlin; Lukas Feireiss, Artist, Berlin; Barbara Hoidn, University of Texas, Austin; Thomas Kraubitz, Happold Ingenieurbüro, Berlin; Heike Oevermann, Georg Simmel Centre for Metropolitan Studies, Berlin; Henk Ovink, Netherlands Ministry of Housing, Spatial Planning and the Environment; Gerry Post, Amman Institute; Harm Sheltens, Utrecht Manifest Biennale for Social Design

EXHIBITION OF DESIGN PROPOSALS
Date: Saturday, August 21 2010, 6pm - 8pm, Sunday, August 22 2010, 1pm - 5pm,
Place: ANCB, Christinenstr. 18-19 (Pfefferberg), 10119 Berlin

The studio participants will be in attendance to explain their proposals.


Studio Directors: Prof. Alfredo Brillembourg & Prof. Hubert Klumpner (Columbia University, N.Y.), Marcos L. Rosa (Technical University Munich and Estúdio Tático) and Dr. Eduard Kögel, (Habitat Unit, Berlin Institute of Technology).

Coordinating Staff: Lindsay Sherman and Michael Contento (GSAPP Columbia University, N.Y.) with the assistance of Katharina Anna Rudolph (Urban Think-Tank)
A research studio by Secretaria Municipal de Habitação de São Paulo, S.L.U.M. Lab and GSAPP, Columbia University New York and Faculty of Architecture and Urbanism of the Escola da Cidade São Paulo and Technical University Berlin with Academy of Applied Arts Munich and Faculty of Architecture of ETH Zurich within the framework of the Re-act Lab programme of Aedes Network Campus Berlin in cooperation with Alfred Herrhausen Society, Doppelmayr, Secretaria Municipal de Habitação de São Paulo, Columbia University, Netherlands Ministry of Spatial Planning, BMW and ARUP