NEWS
CALL FOR SUBMISSION
Enquiry - Paradise Lost, Paradise Found: Smart Tourism
DEADLINE 31 July 2014

Call for proposals, ideas, information, projects and papers from the fields of architecture/design, planning, culture, environment, health, mobility, economy, science etc. concerned with smart tourism for a new ANCB programme with events across diverse formats.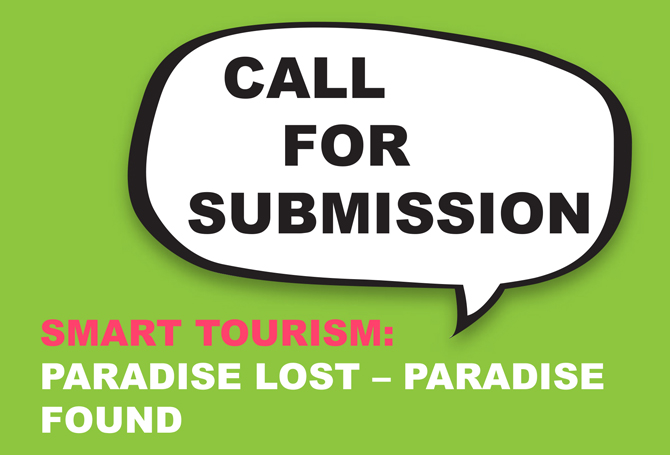 Dates
Deadline for submissions: 31 July 2014 to [email protected]

About the Programme
This ANCB programme aims to stimulate a broad discourse about forward-thinking development in tourism. It will focus on different locations and regions around the world and discuss local solutions with the potential to establish robust infrastructures for both permanent inhabitants and visitors. With a growing tourism industry worldwide, the programme looks at the ethical dimension of tourism and how to deal with the challenge of smartness – and how we might define it - in the age of climate change, globalisation and the need for economic prospect in tourist destinations. Crucially, it addresses this normally abstract issue through the focus of architecture and urbanism while bringing into debate a wide range of voices from the field of governance, industry, technology, economy, urban planning, architecture and travel.

Call for Content
Professionals from industry and academia concerned with smart tourism are invited to submit their work for consideration for inclusion in this ANCB programme. The programme will be used to generate fresh ideas and approaches and to instigate a rethinking of smart tourism in the global age, particularly from a spatial and planning perspective but with key input from other fields.

The material you submit will not be published or communicated though any of our media unless we have contacted you again to ask for permission or invite you to develop it further.


Submissions: Please send abstracts, information, links, ideas and proposals - outlined in 1 A4 page max. as a pdf or links in the email body - together with a short background text about yourself by 31 July to:

[email protected]

.