The ANCB Network
As urban challenges become central issues across disciplines, space-making is increasingly evolving into a collaborative task. It is ANCB's explicit aim to bring together all the stakeholders from different sectors, to facilitate collaborative problem-solving and to disseminate the knowledge created in the process. To that end, ANCB partners with some of the world's most highly regarded universities, institutions and enterprises and connects them in ANCB's growing international network. They join an exciting research agenda that critically assesses the issues from multiple perspectives. Alongside a broad range of professionals and scholars, architects, planners, economists, philosophers, sociologists, scientists, artists, engineers and ecologists – at ANCB we tackle critical challenges together and generate opportunities for our global urban future.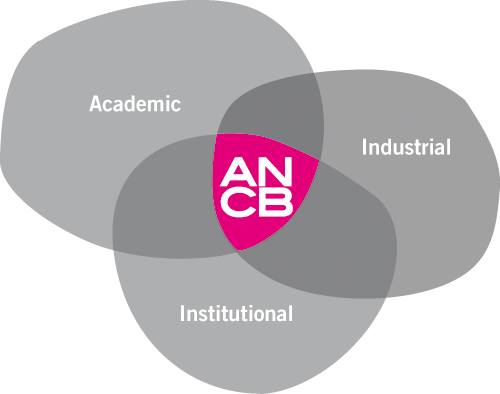 Partnering with ANCB generates public exposure, both to an informed public audience and an international group of specialists. Currently 17,000 subscribers receive our ANCB newsletter and 2,000 lecturers, students, faculty and audience members – among them the vanguard of international spatial practice – come to our campus every year.

We are invested in cultivating long-term relationships of collaboration, visionary growth and continuous learning. Our partners recognise ANCB as a cultural brand with a strong reputation and trajectory. They are both contributors to and beneficiaries of our original ideas, distinctively universal perspectives and international network.
Academic Partners
ANCB offers Academic Partners the opportunity to exchange with universities worldwide and connects them with practice, industry and governance for a uniquely practical input. It provides a physical and intellectual space for experimentation – beyond rules and regulations – that allows for insight through trial and error within a real-life framework of constrictive political, social and economic situations.
ANCB is an independent platform for exploring new approaches, methods, and tools for the design process, in order to advance built environment education towards a more political practice that is as much about process as it is about solutions. The diversity of the pedagogical strategies tried out at ANCB provides not only great insight, but also a vast intellectual potential for further examination.

Click here to see the full list of our academic partners.
Industry Partners
Unique to ANCB's network is the dynamic involvement of innovative companies that define the building industry today, but are really involved in building the world of tomorrow. ANCB and its Industry Partners explore new models of partnership. Rather than cooperating with traditional sponsors who receive their one-time label and- event package, we have developed a synergetic and sustainable partnership model, in which both ANCB and its partners are joining forces to advance together
The collaboration is based on the shared vision that the answers for the improvement of urban living conditions also lie in the potential of new technologies and materials as well as in the often unexpected ways these are applied. We enable our partners to reframe the questions in order to facilitate a practical response. We have become experts in innovation profiling, inciting established companies to reconsider their brands and products in view of these global challenges. Together we think mobility beyond cars, light beyond bulbs, heating beyond radiators, and maybe information beyond data?

Click here to see the full list of our industry partners.
Institutional Partners
ANCB's Institutional Partners belong to all levels of municipal, national and supra-national governance and include research institutions, NGOs and civil society organisations. They share ANCB's belief that, ultimately, urban form and social life are inseparable, everywhere.
As an independent cultural platform ANCB offers institutional partners a unique base for the integration of the political, the societal and the ecological realm – with the physical realm. Our approach to collective knowledge creation transgresses institutional boundaries, while promoting simplified communication and new formulas for collaboration. It is our non-partisan position that allows our partners to challenge conventions, to think differently and to overcome internal, organisational barriers that often dilute their impact.

Click here to see the full list of our institutional partners.