WORKPLACE LIGHTING RESULTS LAGOS
The issues of density, adaptive-reuse and over-illumination in workspaces were identified across the board in Lagos. Open office layouts can contribute to a more spacious working environment, but are not always a "one size fits all" solution. They are also impossible in many conversions. Natural light is barely made use of because of the intensity of the sun, but excess lighting is created artificially indoors anyway. How can we make use of a valuable resource when it is both an untapped blessing and an unpleasant nuisance? Our local research team tackled the issue with lively and pragmatic solutions. These vibrant proposals integrate lighting, furniture design and architecture to improve overall employee satisfaction.

A Curved Response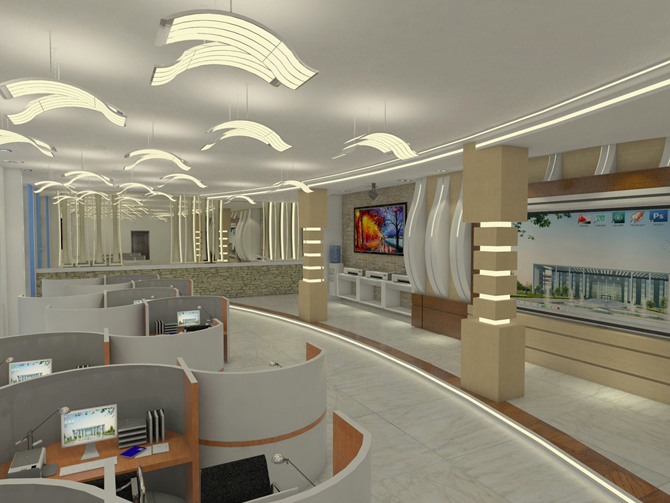 Challenge: The building was specifically purpose built, but a lack of view, sunlight and glare causes blinds to be closed all day. There is no natural light for the staff. Air condition in various small units are scattered over the space, while the ceiling as 1200x1200 white painted hardboard panels leaves little room for variation.

Thesis: A warm and spacious environment as well as readable spatial uniformity lead to enhanced employee satisfaction.

Proposal: The concept emphasizes curvilinear elements to create a limitless theme – curved furniture, curved flooring, curved lights. Light fitting and spacing enhances uniformity which is missing in the existing layout.Translucent window blinds can be closed but still admit light. Table lamps allow for enhanced lighting when necessary.
A Second Home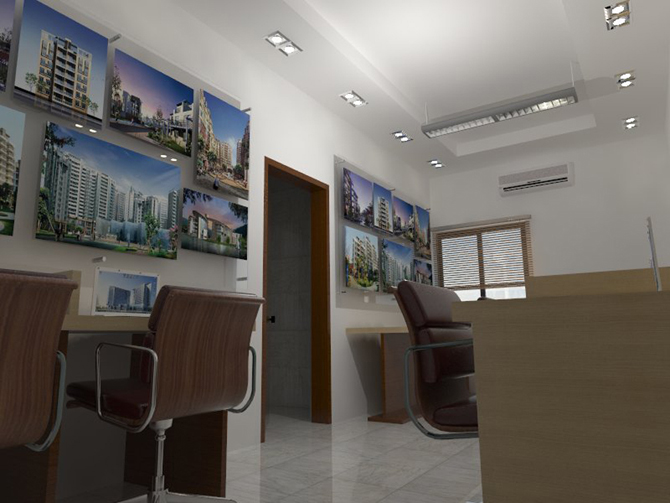 Challenge: The main challenge was the difficulty to adjust spatial and lighting conditions to the new purpose. The workspace criteria of the office area, lighting levels, temperature and acoustics fall below international recommended standards. An AC is needed as heat builds up inside, the blinds are mostly drawn to block sunlight. Windows can't be opened because of noise and dust from a large street intersection.

Thesis: If the illumination of the workspaces is effectively adjusted to recommended level, it is expected that the productivity and comfort of the office knowledge worker will be maximised. A pleasant environment in terms of lighting and interior layout or decoration will contribute to the satisfaction, productivity and comfort of the workers.

Proposal: The students introduce various types of LED lights, increase individual control while adjusting the tables and settings in the small residential spaces accordingly. To increase individual wellbeing, the entire environment was enhanced to be more welcoming, relaxing and conductive to become a "second home" in a true sense.
Dynamic Group Space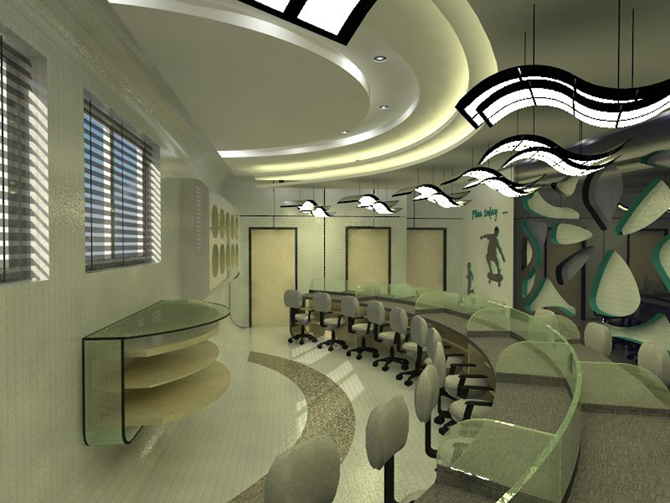 Challenge: The main challenge in this project was to create some form of wellbeing as the windows are all located above head level. On top, blinds block out most light altogether, there is no individual control of lighting possible.

Thesis: Increasing the lighting will improve the comfort and wellbeing of the workers. Improving the ambience and providing more personal space will increase the efficiency and flexibility of the employees.

Proposal: The entire office layout, design and lighting system was re-configured to bring people closer together, staff and customers. A long, curved table is the centrepiece of the space and divides consultants and clients only by half-height glass panels. The curve can also be found in the ceiling, where various light fittings follow the spatial layout.
Showcase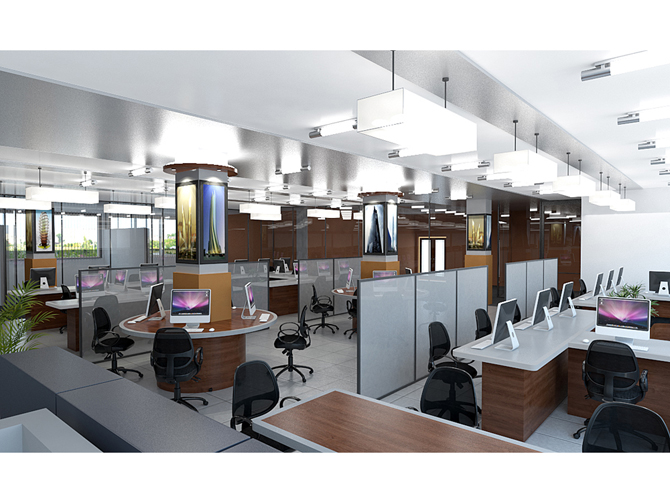 Challenge: As some staff is located further away from the windows, they take a relaxation break to the windows to enjoy the view, but this is a privilege not accessible for the entire staff. Therefore communication and negotiation needs to take place as the entire open plan space shows a significant difference in light condition of workspaces near the window or at the back end of the level.

Thesis: Blending natural and artificial lighting as well as increasing privacy and warmth will solve the conflict of who has control. Colour and lighting colour can play a role to vary the work experience.

Proposal: To promote the firm's identity and ongoing work, walls and columns are adapted and lit to display the firm's projects. New partitions help with privacy issues, while dimmable lights are introduced to support variation and energy efficiency.


Gallery