PUBLIC DEBATE
From a Vertical Forest to a Forest City
Wednesday, 16. March 2016
Almut Grüntuch-Ernst in conversation with Stefano Boeri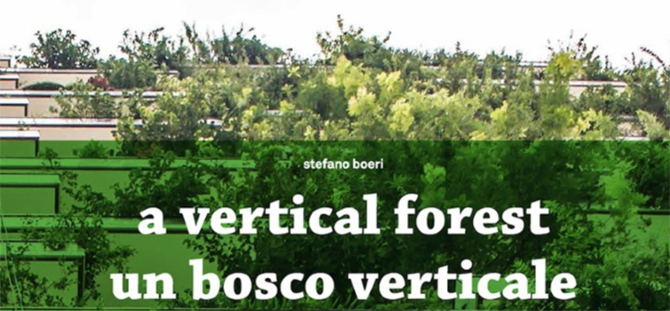 BACKGROUND
The Vertical Forest housing highrise in Milan was inaugurated in 2014, and has already won many awards, such as the International High-Rise Award 2014 and the Award of the Council on Tall Buildings and Urban Habitat (CTBUH) 2015. The building has received a lot of international attention both in the public and in the professional fields. Most recently, the Italian Architect Stefano Boeri has compiled his experiences, the intimate and hidden layer of inspiration and strategies behind the Vertical Forest, "a house for trees and birds, inhabited also by humans, in the Milan sky", in a publication intended to serve as an instructions booklet for a prototype of a forest city.

The Berlin-based Architect Almut Grüntuch-Ernst of Grüntuch-Ernst Architekten will discuss with Stefano Boeri about his urban visions, architectural and planning practice and the forest in the city.

The presentation will be accompanied by the screening of The Flying Gardeners, a short-film produced by The Blinkfish that recently won the Award of Recognition at the Accolade Competition.

PROGRAMME
Welcome
Hans-Jürgen Commerell, Director, ANCB The Aedes Metropolitan Laboratory, Berlin

Indroduction Lectures
Stefano Boeri, Architect and Senior Partner, Stefano Boeri Architetti, Milan
Azzurra Muzzonigro, Architect, Stefano Boeri Architetti, Milan

Conversation with
Almut Grüntuch-Ernst, Architect and Co-director, Grüntuch-Ernst Architekten, Berlin

THE BOOK
The book, published by Corraini Edizioni, features four sections: (i) Seven Inspirations from popular music to urban theories, from Celentano to Ebenezer Howard, the inspiration of a life between political demonstrations, art, and houses in the forest. (ii) Tales from the Vertical Forest, a series of fictional tales depicting this silent and homogeneous cohabitation present in the towers of the Vertical Forest. (iii) An Illustrated Dictionary of the Vertical Forest in 100 Items, a mixed compendium of elements involved in the project and (iv) Learning From VF01, a prospective manifesto that gathers the experience of the Vertical Forest as the first prototype of a non-anthropocentric model of urbanisation: the Forest City.
A Vertical Forest. Instructions booklet for the prototype of a forest city. By Stefano Boeri, edited by Guido Musante and Azzurra Muzzonigro; with contributions by: Michele Brunello, Laura Gatti, Julia Gocalek, and Yibo Xu; photography by: Paolo Rosselli, Laura Cionci, and The Blinkfish.