WORKSHOP
Massachusetts Institute of Technology & Technische Universität Berlin
23 July - 3 August 2018
Migrating the City: Designs and Strategies for User-Driven Habitats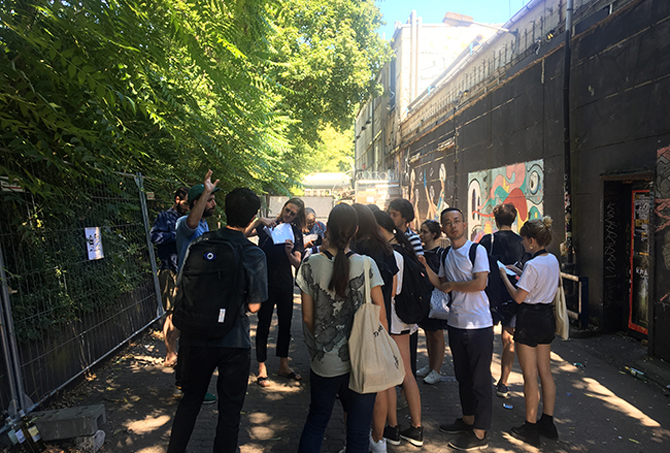 2018 marks the year that the Berlin Wall has been gone for longer than it stood. While the physical barrier is all but gone, new socio-economic segregations, resulting i.a. from neoliberal urban policy and market-oriented developments, are being spatially inscribed in a fragmentary pattern that gradually takes over city districts from the core to the periphery.
The workshop Migrating the City challenges the assumptions that steered the so-called 'critical reconstruction' of Berlin since the early 1990s, which invoked the idea of a consolidated 'historical European city' as its proper image and model. Migrating the City proposes instead a radical, yet pragmatic vision of future urban formation that puts inter-community groups in charge of projects that address the issues of immigration, human mobility, and economic opportunity as integrated with the wider issues of social and metabolic sustainability. Such projects would be simultaneously user-specific, responsive to the local context, and coordinated on a metropolitan scale.

Building on Berlin's unique legacy of regional metabolic interconnections, landscape interventions, insurgent and cooperative housing initiatives, and migrant-driven economies, we will project new strategies for user-driven urban formation. Drawing historical lessons and precedents from the arrival district of Kreuzberg, we will re-orient the city through a unique form of analysis that will establish a new city-land section; one that will challenge the traditional, plan-based understanding of city form. Our new urban reading will examine four redefined urban districts: Neukölln–Treptow, Lichtenberg, Oberschöneweide, and Tempelhof–Südkreuz. For each of these, we will propose interventions in one of four different scales, that are premised on claiming, converting, and designing spaces and platforms for collectivity.

Participants:
Dalma Feldosi, Daniel Marshall, Alina Nazmeeva, Malcolm Rio, Helena Rong, Tony Yang, Jung In Seo, Tony Yang (MIT)
Carolyne Couston, Marco Cucuiu, Francesco Grillo, Cansu Kaçar, Sebastian Labis, Lasse Rau, Sofia Fernandez Rosso, Nilhan Tezer, Ann-Kathrin Salich (TU Berlin)
Studio Coordinators: Prof. Rafi Segal (MIT), Prof. Benjamin Albrecht (TU Berlin), Prof. Namik Mackic (AHO Oslo), Eli Keller (MIT)