WORKSHOP
AA Visiting School - Urban Phoenix Berlin
5 August 2022
Urban Phoenix Berlin
Viewing urban resilience as a backdrop, this Visiting School aims to redefine defunct large-scale buildings in Berlin and to explore novel solutions for the city's built legacy. Expanding last year's focus on the infamous disused International Congress Center (ICC), we will zoom out to engage with the Berlin-Westend area as a whole.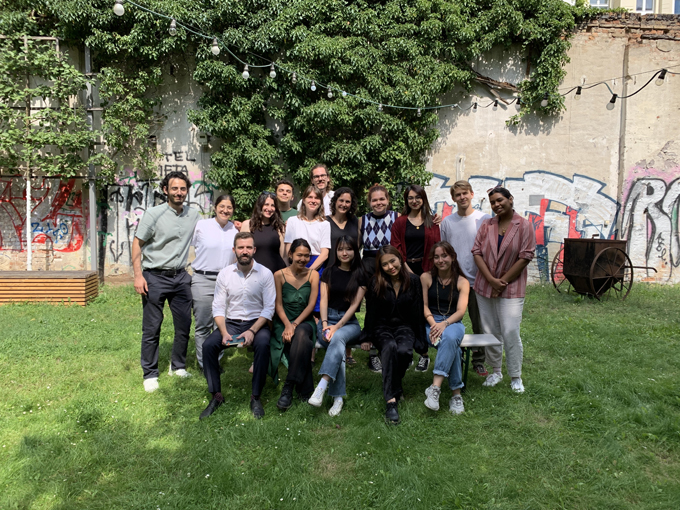 Encompassing the landmarks of radio tower, ICC, and historic highway junction as a city gate from the West, the quarter is dominated by the trade fair grounds, organically grown throughout the last century. With an extent of 68ha and a total of 237.550m² built surface area, they form the heart of this assemblage of monofunctional spaces and constitute the fulcrum for rethinking the design of the area's urban fabric.
The students started by questioning which toolsets best equip in assembling the existing patchwork of monofunctional spaces into one coherent and vibrant urban quarter - a universal task for contemporary European cities reassessing their post-war-era bequests. In the process, they investigated a comprehensive place-making approach to augment the vast spaces on site.
In recent decades, Berlin has thrived from the tension between opposites, which have become interwoven in propelling urban development. One prominent thread is the duality between the post-cold-war regulated reconstruction and a strong squatter heritage rooted in the 1970's that jump-started a contemporary movement of space appropriation and public participation. This and other opposing forces served as an inspirational backdrop for investigations into novel space typologies.
Unifying these strands into one narrative, participants have been asked to take a human-centric design approach and rethink its manifestation in the urban fabric by developing suitable mapping techniques that go beyond the definitions of public and private space. By introducing these innovative, symbiotic space typologies, they restaged and reinvented existing structures, offering an exciting opportunity to build on legacy values while facilitating urban resilience and sustainability.
https://www.aaschool.ac.uk/academicprogrammes/visitingschool/urban-phoenix-berlin
Studio Coordinator: Edith Wunsch