WORKSHOP
FAAD Universidad Diego Portales

10 - 19 October 2022
Berlin Architectural Experience
The "Berlin Architectural Experience" guide is a compendium of information on Berlin buildings built from the beginning of the 20th century to today, and available online in the form of an Instagram account. Art, architecture, and design students from the Universidad Diego Portales, in Santiago, Chile, visited 27 buildings in Berlin, in 7 days, 5 tours and synthetized their experience with photographs, drawing tools, written perceptual analysis and atmospheric visualizations, presented in a final review at ANCB.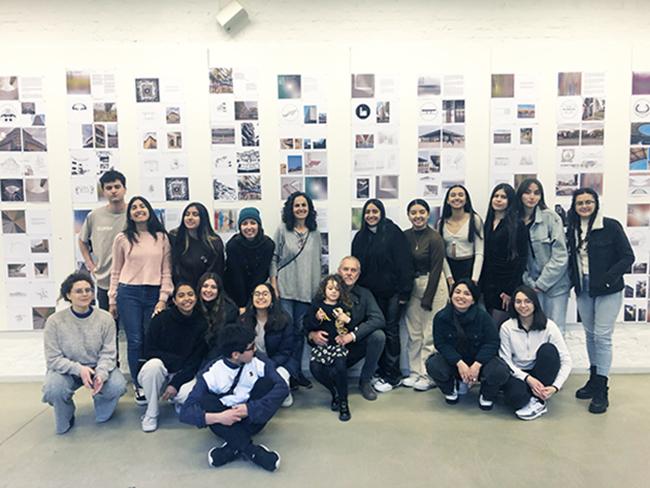 The focus of the exercise is to uncover processes of crisis and transformation, materialized by the architectural projects, to learn from the past, and to recontextualize the current social, political, and economic crisis. Berlin, more than other cities, embodies those processes, as it encountered five periods of drastic transformations over a little more than a century.
The case studies respond to a historical and programmatic classification. The selection includes examples from the German Reich (1871-1918), Weimar Republic (1918-1933), Nazi Germany (1933-1945), Cold War (1945-1990) and reunified Germany (1990-present), crossed by the architectural program of the buildings, which includes the categories of housing, culture and sport, education, religion and monuments and infrastructure.
Drawing, photography, and perceptual analysis allowed the students to discover places beyond their historical data and classical information. The guide is a mosaic of abstract images that synthesize the atmosphere of contemporary Berlin.
Studio Coordinator: Mathias Klotz and Carolina Del Campo