PUBLIC DEBATE
Future Thinking. How to Make Things Better.
Thursday, 1 December 2022
A Lab Talk in collaboration with Deborah Ascher Barnstone, University of Technology Sydney and the Australian Embassy Berlin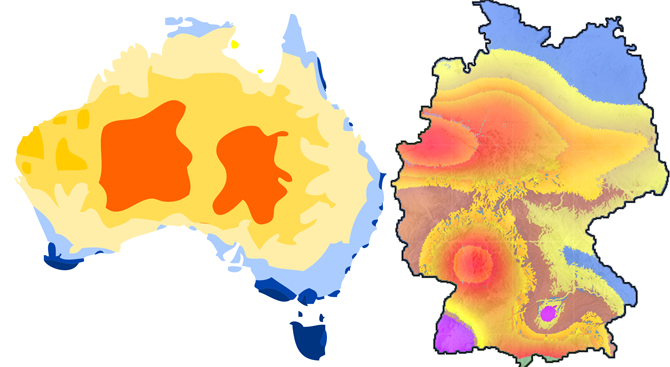 © Christallkeks/ U.S. National Weather Service
How can architecture act as a tool for betterment? This public Lab Talk will showcase Australian and German examples of strategies for planners and designers – but also politicians, academics and industry partners – to form new networks mapping a better future in our urban and rural spaces. Future Thinking aims to explore ways for architecture to actively address climate change challenges using a comparative approach, to enable a broader dialogue and to focus on different strategies to extract general valid parameters and local mitigation and adaptation factors.
PROGRAMME

Welcome
Miriam Mlecek, Programme Manager, ANCB The Aedes Metropolitan Laboratory, Berlin
Deborah Ascher Barnstone, Professor and Head of School of Architecture, University of Technology Sydney
H.E. Philip Green, Australian Ambassador to Germany
Impulse Statements and Panel Discussion
Hans Joachim Schellnhuber, Director Emeritus, Potsdam Institute for Climate Impact Research, Potsdam
Tobias Wallisser, Director, LAVA, Berlin/ Stuttgart/ Sydney
Andrea Klinge, Co-Founder and Research Director, ZRS Architects and Engineers, Berlin
Norbert Gorißen, Deputy State Secretary and Special Envoy for International Climate Action, Federal Foreign Office, Berlin
Gerard Reinmuth, Principal and Director, terroir, Sydney
Q&A
with the audience, moderated by Deborah Ascher Barnstone and Miriam Mlecek
BACKGROUND
Climate change is the greatest challenge facing humanity today. Many aspects of the built environment, which encompasses transportation infrastructure, building construction and operation, and land-use, contribute to climate change. If designed well, however, the built environment can also contribute positively to climate change mitigation and adaptation. Any effective response to climate change needs to be able to reduce the demand for diminishing resources, to respond flexibly to the changing environment, or both. Designers need to consider the scale of the individual, the city, nation and globe in their work to imagine more resilient solutions in the face of weather-related events such as excessive heat and floods, droughts and wildfires, health-related events such as Covid-19, economic side effects such as rising food prices, and societal conditions like mass migrations. Germany and Australia, even though on opposite sides of the globe, are actively looking for sharing knowledge and tools to support innovative planning processes and creative or "smart" strategies/typologies for living, working, housing and critical infrastructures.
This event is part of the new ANCB theme Futureproof. Climate Action and Resilience exploring strategies and creating new paths for sustainability and resilience.
Photos © Erik-Jan Ouwerkerk