WORKSHOP
Pratt Berlin

03 – 27 July 2023
Pratt Berlin is an international summer intensive program that focuses on issues of urbanity, social entrepreneurship, and civic engagement. It aims to train students to develop a sense of strategic innovation and empowerment through design. This website offers an overview of the results.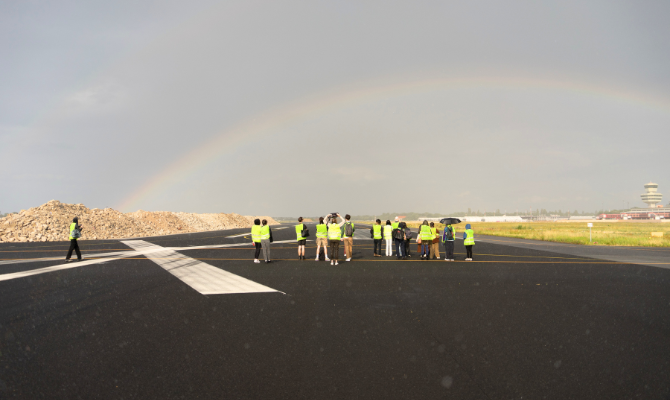 Image credit: Carl Bahra
The 2023 installment of the program invites students to develop speculative reuse concepts for the former Flughafen (airport) Tegel Terminal A building and area. Built in 1975, the visionary design by a young architecture firm served as a lifeline for the walled-in city well beyond the fall of the Berlin wall. Its iconic hexagonal layout became a visual marker for anyone traveling to or from Berlin.
This year's Pratt Berlin summer program is an international convergence of minds, comprising 13 graduate and undergraduate students from Pratt Institute in Brooklyn, New York, alongside local students from Kunsthochschule Weißensee. Together, this assembly spans a diverse array of disciplines, encompassing sculpting, architecture, product design, and urban planning, among others.
Throughout the intensive four-week program, students harness their collective creativity, working in close-knit groups to envision adaptive reuse concepts for the airport's disused spaces. The spectrum of ideas ranges from envisioning community gardens, interactive sculptures, innovative refugee housing solutions, bike paths repurposing decommissioned aircraft, and even the proposal for an artificial mountain. This website offers an overview of the results.  
Studio Coordinator: Gisela Baurmann and Jonas Coersmeier