JUNIOR CAMPUS
The Aedes Junior Campus is a collaborative project between ANCB The Aedes Metropolitan Laboratory, Pfefferwerk Stadtkultur gGmbH and participating schools and child care facilities in Berlin.

It is the aim of the Junior Campus to introduce children and youth to the culture of architecture and urban space and to foster an interest in design through cultural education and aesthetic development. Under the guidence of architects, artists and townplanners the children are led through project-oriented design processes aimed at developing spatial awareness as well as an understanding of building materials and presentation media. A strong focus of the Junior Campus is on the role of discussion and group decision-making in the realisation of a constructed idea.


UNIT ONE: Experience Urban Design, Summer 2009
UNIT ONE: Experience Urban Design, Summer 2009
In cooperation with Pfefferwerk Stadtkultur gGmbH and Berlin Kids International School, funded by the Berlin Projektfonds Kulturelle Bildung



Architecture is an important part of the everyday life of children. Buildings, particularly schools and day care centres, foster learning processes and personality development. The way to and from school is a little urban expedition in itself every time. The focus of a year-long subject entitled "Building/Gebäude" was an examination of the school building and the immediate school surroundings. The interdisciplinary subject combines topics from geography, mathematics, art, history, and urban politics topics to an exciting project. Tailored to specific age-groups, the units strive to turn curiosity into active research and reflection into creativity. Imagination spurs courage and lets the pupils' personalities mature. This kind of research opens up a way for children to actively perceive and to participate in the design of the built environment.
UNIT TWO: The 'Kiez' Explorers, Autumn 2010
'Kiez' is a Berlin-specific expression for neighbourhood, which emphasises the aspect of community exchange and short distances to the most important functions and that which creates a sense of local identity. A Kiez is usually comprised of several blocks around a central street or square. It requires a certain infrastructure (local services, bars, meeting places) and a defined urban fabric.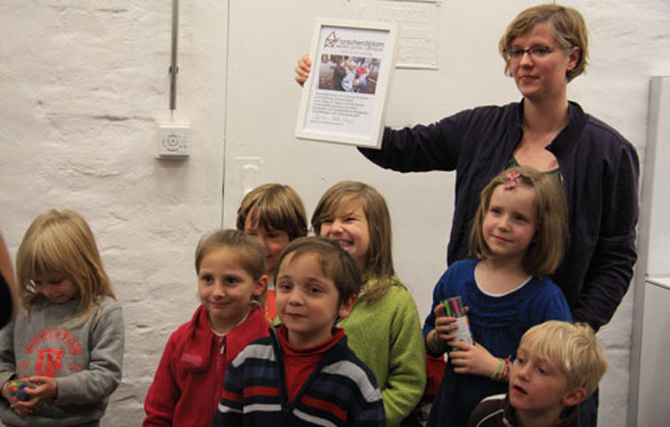 First and second grade pupils explore their Kiez with specific research assignments. They collect the results and implement them in a diverse and creative way. At the end of the project week, the results will be displayed at Aedes Network Campus Berlin and celebrated with the children's parents. The project's objective is to examine a familiar environment and to systematically deal with a single site over a longer period of time. This way, the pupils shall learn to observe closely, to change perspectives and to address their city culture in an enduring and artistic manner. Seemingly well-known streets are scrutinised for small details, secrets, and stories behind the walls, windows and doors. The pupils can interview inhabitants, passers-by or shop owners, take photographs of places or take findings with them. All impressions will be compiled to individual 'Kiez products' in small groups.


Kleine Baumeister: Wilhelm und Hedwig in Berlin, 29 – 31 August 2016
Das Projekt wurde gefördert von: Berliner Projektfonds, Kulturelle Bildung
Die Kaiser-Wilhelm-Gedächtniskirche und die St. Hedwigs-Kathedrale erforscht von Berliner Kitakindern und Schülern. Vom 29.- 31.8.16 waren die Installationen und interaktiven Modelle im ANCB zu sehen. Unter der Leitung von Jessica Waldera von "kleine baumeister", Berlin haben Kinder der Ev. Kita KWG, der Kath. Schule St. Hildegard, der Kath. Schule Liebfrauen und der Kath. Schule St. Franziskus spannende, bunte und informative neue Blickwinkel auf die beiden Kirchen erarbeitet.
Expedition und Materialforschungen auf dem Pfefferberg
Aedes Junior Campus & Kleine Baumeister für Kinder zwischen 6-12 Jahren
Termine am: 10.7. und 11.7.2018 jeweils von 10:00-16:00 Uhr
Ort: ANCB The Aedes Metropolitan Laboratory, Christinenstr. 18 - 19, 10119 Berlin
Gemeinsam entdecken und erforschen die Kinder den Pfefferberg. Wir schauen uns an, wie das Gelände früher genutzt wurde und vergleichen mit der heutigen Nutzung. Dabei blicken wir hinter die Kulissen und in die Gebäude. Mit Hilfe von Stadtplänen erarbeiten sich die Kinder stadtplanerische Informationen: der Pfefferberg war früher städtische Randlage und ist heute Innenstadt. In architektonischer Hinsicht lernen die Kinder durch den Ausstellungsbesuch bei Aedes was es mit Materialforschung auf sich hat. Dabei werden einzelne Themen (z.B. Fassaden, Fensterformen, Mauerungen) kreativ, experimentell und spielerisch vertieft.
INFO
Geeignet für Kinder zwischen 6 und 12 Jahren ⁄ Angebot für 15 Kinder pro Termin.
Die Veranstaltungsdauer umfasst eine Frühstücks- und eine Mittagspause. Verpflegung bitte selbst mitbringen.

Die Teilnahme ist kostenfrei.
Wir bitten um verbindliche Anmeldung bis zum 29. Juni unter: kontakt@industriekultur.berlin
Berliner Zentrum Industriekultur, Jula Kugler, Tel.:030/5019-3805
OTHER JUNIOR CAMPUS EVENTS
29 September 2010 - RAUM.Erfahrungen more
25-27 January 2010 - Stadtschloss.Forscher more
6-8 November 2009 - Stadtschloss.Forscher at Deutsche Guggenheim more