PUBLIC DEBATE
My Knowledge Space: A New Public Library Prototype for the 21st Century - the New Berlin Library as Prototype
Saturday, 14 May 2011
In collaboration with the Central and Regional Library Berlin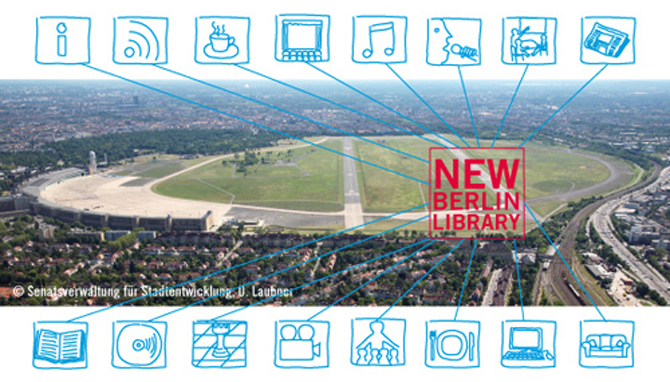 BACKGROUND
The City of Berlin is considering to build the new Berlin Library on the former Tempelhof airport field (now Tempelhofer Freiheit). Before the competition and planning phase kicks off, ANCB in collaboration with the Central and Regional Library Berlin want to explore the roles, tasks and functions of the public library of the 21st century as well as the demands it has to meet. The symposium will address significant aspects in an intensive, transdisciplinary discussion. International experts from the fields of library, architecture, sociology, culture, industry and politics will discuss the following three questions and engage the Berlin public into a debate about this 21st century public library - the city's new Knowledge Space.
The Library's Role in the Public Domain of a Global City. What must this library offer to become a loved public space in Berlin, knowing that Berliners are sophisticated users of public space, demanding particular physical and programmatic characteristics?
Library Concepts for the New Media Age. Which library concept is appropriate to these early decades of the 21st century, remarkable for the ever-growing influence of user-defined networks on virtual and social space, on the one hand, and the technology-driven opportunities for accessing and sharing knowledge and information on the other?
The Library's Location and the Urban Interface. What is the potential for Berlin of this location on Tempelhofer Freiheit, both strategically in terms of the wider city, and locally in terms of its interface situation between diverse socio-demographic city districts?

PROGRAMME
Welcome and Introduction
Dr. h.c. Kristin Feireiss, ANCB Director
Volker Heller, Head of Directorate Cultural Affairs, Berlin Senate Chancellery
Áine Ryan, Programme Manager, ANCB
Dr. Jonas Fansa, Planning Consultant, Central and Regional Library, Berlin

PANEL 1: Potentials for Berlin City of the Proposed ZLB Library - Social, Economic & Urban
Social Diversity Around Tempelhof Airfield - a Resource for Urban Development
Manfred Kühne, Head of Department Urban Development and Projects Berlin Senate Department for Urban Development

Economic Value Creation by Berlin's Future Flagship Library in Tempelhof
Roland Püttmann-Holgado, Head of Strategy and Acquisition, Tempelhof Projekt GmbH, Berlin

How a Library Can Change a City
Dulce Xerach Pérez, Member of Parliament of Canary Islands

Moderator: Theresa Keilhacker, plattformnachwuchsarchitekten, Berlin

PANEL 2: Conceiving the 21st Century Library: New and Emerging Concepts
Re-Engineering Library
Dr. Jonas Fansa, Planning Consultant, Central and Regional Library, Berlin

The Multifaceted Place: Concepts for Urban Library Space
Olaf Eigenbrodt, Head Librarian, Department of Language, Literature & Media, University of Hamburg

The Library as Lobby
Dietmar Leyk, Architect and Professor of Urban Design, Berlage Institute, Rotterdam
Moderator: Thomas Willemeit, Graft Architects and Professor at Peter Behrens School of Architecture, University of Düsseldorf

PANEL 3: The Role of the Library in the Public Domain of the City
A Place for Cultural Exchange. The Library as Public Domain
Arnold Reijndorp, Professor of Sociology, University of Amsterdam
Sketching Library Transformation
Knud Schulz, Manager of the Main Library, Aarhus

Amsterdam Central Public Library
Jo Coenen, Architect of Central Public Library Amsterdam
Moderator: Áine Ryan, ANCB Programme Manager

Germany - Land of Ideas Prizegiving Ceremony for ANCB
ANCB has been chosen as Selected Landmark in the Land of Ideas 2011. The initiative Germany - Land of Ideas, founded by the German Government and the Federation of German Industry, awarded ANCB as resourceful, innovative, progressive and cosmopolitan.
Laudation
Juliane von Trotha, Germany - Land of Ideas
Brodo Brandt, Deutsche Bank

ACCOMPANYING EXHIBITION OF STUDENT ARCHITECTURAL AND URBAN DESIGN PROPOSALS
Place: ANCB, Christinenstr. 18-19, 10119 Berlin
Time: 13 - 15 May 2011, 10 am - 5 pm daily
As part of this discussion on the Berlin Library, ANCB invites the Berlin public's response to a set of architectural design proposals for the new Berlin metropolitan library prepared by students from three architecture schools.

Peter Behrens School of Architecture Düsseldorf, led by Prof. Thomas Willemeit and Julian Busch
Reading Garden Tempelhof: A New Central and Regional Library for Berlin

Technische Universität Braunschweig, led by Prof. Rolf Schuster, Marika Schmidt and Johanna Meyer-Grohbrügge
Library Calling

Technische Universität Berlin, Diploma Thesis by Jan Müllender
Campus THF
We would like to thank the following institutions and enterprises for their generous support:
Senate Department for Urban Development Berlin
Tempelhof Projekt GmbH Berlin
Steelcase
ekz.Bibliotheksservice GmbH
Kling und Freitag
Danish Embassy Berlin
Germany Land of Ideas