PUBLIC DEBATE
MIND YOUR BEHAVIOUR - How Architecture Shapes Behaviour
18 June 2010
Lectures by Kim Herforth Nielson of 3XN Architects and Henning Thomsen of Gehl Architects, followed by a discussion led by Christoph Stroschein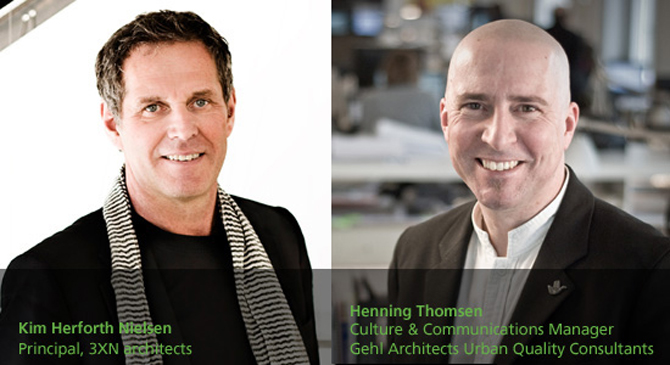 The question is how architecture shapes behavior. Can a building in itself aid the function, like a school the education process? Kim Herforth Nielsen thinks yes and Henning Thomsen from Gehl Architects says "many of the challenges cities face all over the world today can be addressed simply by thinking about 'people first' when planning cities." Christoph Stoschein will challenge this concept of behavior together with Henning Thomsen and Kim Herforth Nielsen in a discursive talk.

Principal of Danish practice 3XN, Kim Herforth Nielsen ( cand. arch. MAA, RIBA) has led his firm to a series of competition wins establishing its international reputation. He is often called upon as a jury member in international architectural competitions, and as lecturer at art academies and universities around the world. Kim Herforth Nielsen is a Knight of Dannebrog and has received Denmark's highest architectural honor, the C.F. Hansen Medaille.


Henning Thomsen is a trained architect, holds a degree in political science and is Executive Master of Management Development from Copenhagen Business School. At Gehl Architects he works as a senior consultant on urban projects all over the world, as well as being the Culture & Communications Manager in charge of strategy, internal and external brand and cultural integrity, and office policies on CSR, ethics and sustainability. He is also a prolific writer and blogger on architecture and planning.