PUBLIC DEBATE
LEBBEUS WOODS. ON-LINE
Saturday, 28 June 2014
In collaboration with Tchoban Foundation. Museum for Architectural Drawing on the occasion of the exhibition opening Lebbeus Woods. ON-LINE.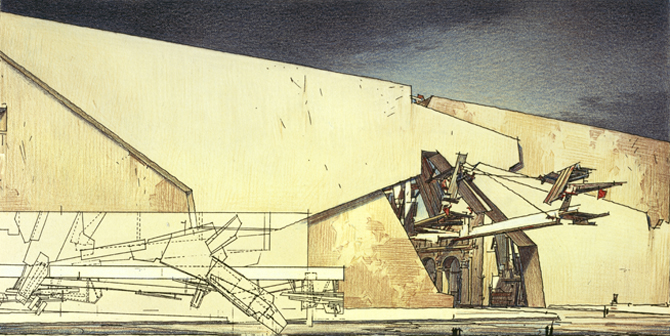 Image: La Habana Vieja: Walls, 1994 – 95. Coloured pencil and ink on board

Lebbeus Woods, († 2012) was a contradictory figurehead. As a challenging philosopher and writer, great visionary, gifted artist, fantastic teacher and excessive character he manifested his thoughts and visions in hundreds of manuscripts and fascinating pencil drawings of outstanding depth and gravity. Some of his companions invited to this symposium will reflect on his personality in relation to his overwhelming oeuvre and on how he influenced generations of students and confronted and stimulated the academic profession and discourse.

PROGRAMME
Introduction
Kristin Feireiss, Director, ANCB The Aedes Metropolitan Laboratory, Berlin
Sergei Tchoban, Founder of the Tchoban Foundation. Museum for Architectural Drawing, Berlin

Podium Discussion
Zvi Hecker, Zvi Hecker Architects, Berlin
Christoph a. Kumpusch, Principal of c.a.k. Productions, New York
Kimberli Meyer, Director of the MAK Center for Art and Architecture, Los Angeles
Hani Rashid, Principal of Asymptote Architecture, New York / Professor of Architecture at the University of Applied Arts, Vienna
Neil Spiller, Director of the Advance Virtual and Technological Architecture Research (AVATAR) Laboratory and Dean of Architecture, Design and Construction at the University of Greenwich, London

Moderator: Mark Morris, Director of Exhibitions at Cornell University College of Architecture, Art and Planning, Ithaca/NY

Film Screening
Lebbeus Woods + Steven Holl: The Practice of Architecture by Michael Blackwood (53 min.)

EXHIBITION
Opening: Friday, 27 June, 7.00 pm
Dates: 28 June – 3 October 2014
Place: Tchoban Foundation. Museum for Architectural Drawing, Christinenstr. 18a (Pfefferberg), 10119 Berlin

Bringing together a collection of the finest works of architectural theorist, draftsman, educator and architect, Lebbeus Woods (1940–2012), the Museum for Architectural Drawing presents Lebbeus Woods. ON-LINE, curated by his longtime friend and partner Christoph a. Kumpusch. The intensely rendered architectural and urban environments produced early on in Woods' career are exhibited together for the first time. These ink and pencil drawings cover a wide range of Woods' research and re-imagination of cities both real and fictive and support Woods' longstanding desire to show the capacity of architecture as a transformative and eloquent force.

For the first time, Woods' 4 Cities & Beyond (1982–1983) projects - including A City (1987) and Centricity (1987–1988) – are brought together with depictions of Region M (1984), Underground Berlin (1988) and a design for a Meta-Institute (1994–1995). Figuratively floating above and between these locales are Woods' delicate, metal-plated and cable-laced Geomagnetic Flying Machines (1988).

By focusing on the diverse characteristics of his line work, the show demonstrates Woods' complete investment in drawing as the most forceful, evocative and uniquely architectural mode of communication.