PUBLIC DEBATE
DANCING ABOUT ARCHITECTURE
On the Critical Reflection of Body, Sound and Space in the City
Friday, 26 September 2014
In collaboration with the Schering Stiftung and Schaubühne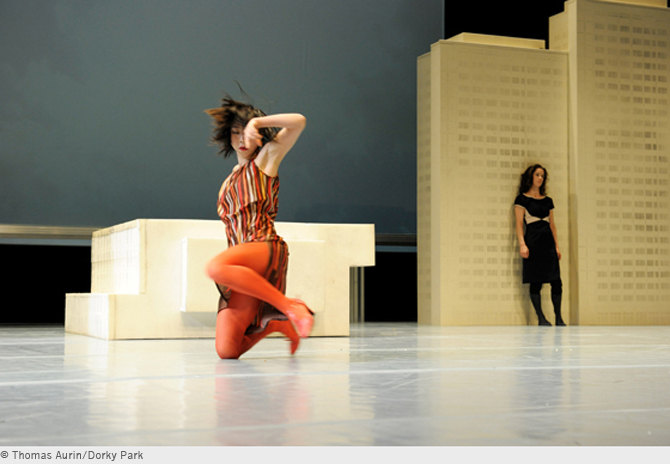 Forces of the city clash with forces of bodies that consciously and unconsciously articulate and exaggerate the manifold sensitivities within an ever-changing urban society. Against this backdrop, the international symposium Dancing About Architecture, curated by Constanza Macras and Lukas Feireiss, brings together diverse positions in the interdisciplinary discussion of dramaturgy, dance, music, architecture and urban space. The symposium draws on the fact that today the production of space is no longer solely the task of architecture: a young generation of urban creatives is at the forefront of a new, urban inventiveness that is actively contributing to the continual renewal of our cityscape. Gone is the traditional sovereign right of architects and planners to the formal design of the city. It is in this subversion of established modes of addressing our built environment that we find the unique chance to discover new and fascinating spatial landscapes and to thereby tell a narrative of the city through the bodily experience of being.

PROGRAMME
Welcome
Hans-Jürgen Commerell, Director, ANCB The Metropolitan Laboratory, Berlin
Lukas Feireiss, Studio Lukas Feireiss, Berlin
Presentations followed by a Podium Discussion
Gascia Ouzounian
, Queen's University, Belfast
Simon Will
, Gob Squad, Berlin/Nottingham
Moderator:
Lukas Feireiss
, Studio Lukas Feireiss, Berlin
FURTHER EVENTS, 24 - 28 SEPTEMBER 2014
Dancing About Architecture
, curated by Constanza Macras and Lukas Feiress, explores a range of approaches to the theory and practice of contemporary spatial discourse, from the simple movement of people and objects to socio-economic flows and migration movements, as well as the continuous flow of information, ideas and images in our increasingly networked media world. The programme includes a series of symposium talks, workshops and dance performances featuring international speakers and participants. Full details can be found at
www.dorkypark.org
.
Supported by Schering Stiftung