PUBLIC DEBATE
SPACE ON DEMAND - New Cultural Surfaces for the City
New York's first multi-arts center, 'The Shed'
Friday, 8 September 2017
A Conversation with Elizabeth Diller, Diller Scofidio + Renfro, New York and Chris Dercon, Director Volksbühne Berlin on the occasion of the exhibition opening 'SPACE ON DEMAND. Diller Scofidio + Renfro' at Aedes Architecture Forum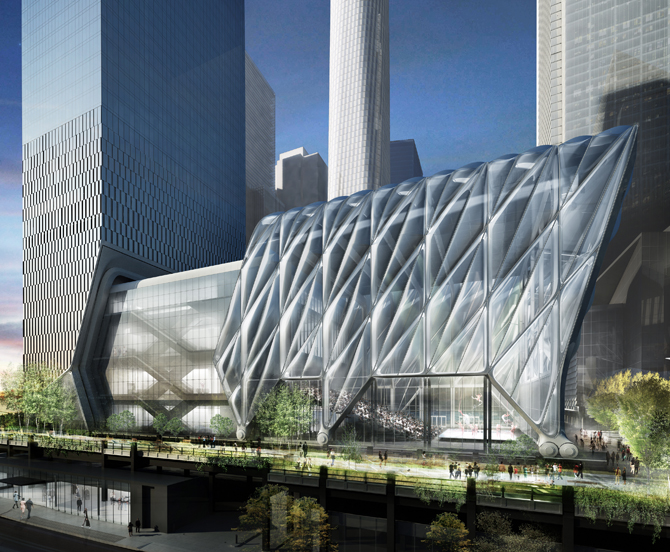 The Shed, Night View Rendering, Courtesy of Diller Scofidio + Renfro in collaboration with Rockwell Group
Date: Friday, 8 September 2017, 5 pm
Place: ANCB The Aedes Metropolitan Laboratory, Christinenstr. 18-19, 10119 Berlin

The expanding role of institutions—from museums to arts centres to cultural districts—demands a new architectural and curatorial approach to reflect urban, societal and economic shifts in the 21st century. Designed by Diller Scofidio + Renfro (DS+R) in collaboration with Rockwell Group, 'The Shed' responds to this challenging institutional demand as the first multi-arts center designed to commission, produce and present all types of performing arts, visual arts and popular culture. On the occasion of the 'Space on Demand' exhibition opening, DS+R Partner Elizabeth Diller and Volksbühne artistic director Chris Dercon discussed their approach to rethinking institutions from their distinct perspectives as architect and artistic director.
Welcome
Hans-Jürgen Commerell, Director, ANCB, Berlin
Conversation with
Elizabeth Diller, Diller Scofidio + Renfro, New York
Chris Dercon, Director Volksbühne Berlin

Front-Row Peers
Gijs Rikken, Associate Architect, MVRDV, Rotterdam
llka Ruby, Ruby Press, Berlin
The question of surfaces of cities was continued the next morning, Saturday 9 Septemer 2017, in the colloquium New Functions of the Surface. Pushing the Urban Envelope at ANCB.