PUBLIC DEBATE
Speaking Through Sketchbooks
Saturday, 30 June 2018
A discussion accompanying the exhibition Opening Lines: Sketchbooks of Ten Modern Architects at the Tchoban Foundation. Museum for Architectural Drawing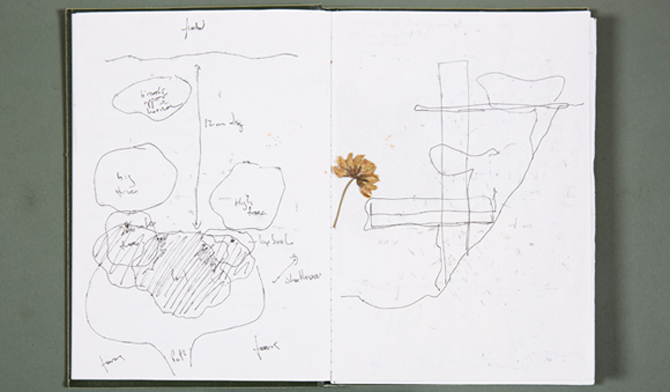 Níall McLaughlin, In Kilkenny in the rain, undated, pen on paper with pressed flower, Image Courtesy Drawing Matter, © The Architect
This Museum Dialogue celebrates the inauguration of the exhibition Opening Lines: Sketchbooks of Ten Modern Architects at the Tchoban Foundation Museum for Architectural Drawing (30.6.2018 – 7.10.2018) and the launch of a new series of publications about architectural sketchbooks produced by Drawing Matter Somerset. Architects Nigel Coates and Níall McLaughlin were in conversation about their sketchbook practices, followed by a chaired discussion with other architects whose work features in the exhibition.
Copies of the following books were presented for the first time, and available for purchase:
Seven Early Sketchbooks, Álvaro Siza
Sketchbook 12 and the Continuous Monument, Adolfo Natalini
The Lisson Gallery Sketchbooks, Tony Fretton
Sketchbooks – A Parallel Life, Níall McLaughlin
PROGRAMME
Welcome and Introduction
Dunya Bouchi, Managing Director, ANCB The Aedes Metropolitan Laboratory
Dr. Tina di Carlo, Drawing Matter

Presentations and Conversation
Nigel Coates, Founder of Nigel Coates, House of Architecture and Design, London
Níall McLaughlin, Founding Director, Níall McLaughlin Architects, London
Discussion Moderator
Dr. Olivia Horsfall Turner, Senior Curator of Designs, Victoria and Albert Museum, London

THE EXHIBITION: Opening Lines: Sketchbooks of Ten Modern Architects
Exhibition opening: Friday, 29 June 2018, 7 pm
Duration: 30 June - 7 October 2018
Opening Hours: Mon-Fri 2-7pm, Sat-Sun 1-5pm
Place: Tchoban Foundation. Museum for Architectural Drawing, Christinenstr. 18a, 10119 Berlin
For more information on the exhibition, please visit www.tchoban-foundation.de.
In collaboration with:
Tchoban Foundation. Museum for Architectural Drawing
Drawing Matter