WORKSHOP
AA Architectural Association Visiting School
6 - 17 August 2018
Animalesque


Animalesque is a Berlin-based research and teaching programme that is part of the Architectural Association (AA) Visiting School, and collaborating with TU Berlin and ANCB.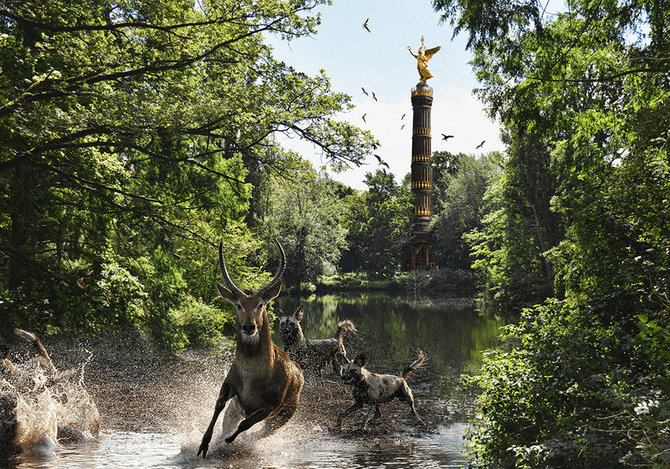 BACKGROUND AND TASK

Urban growth is transforming cities in dynamic ways. However, all too often this is with little consideration for the rich ecosystem of wildlife that co-inhabits these. Humans need animals and insects to survive: from the honeybees that pollinate plants, to the ants that help maintain a healthy soil, to the birds that control pests.

Berlin is a city where almost a third of its surface consists of forests, parks, gardens, lakes, rivers or waterways, but also of uncountable pockets of green spaces and abandoned buildings. All together, Berlin hosts an extensive – but mostly invisible – network of hundreds of animal species living under their own rules and in parallel to its wider urban system.

As a complex urban living space, Berlin gives us the opportunity to envision new approaches to a physical and spatial relation with nature and animals.

The first Animalesque Visiting School will be organized around three themes:
1. Animal Sense: experience a sensorial immersion in the city and switch your perspective to a non-anthropocentric,
2. Animal Matter: transmit your sensorial experiences through media and disruptive structures,
3. Animal Vision: develop visions on urban ecosystems engaging all species, leading towards an Animalesque Utopia.

The immersive multisensory experience will enhance the practical applications of helping wildlife flourish in cities.
Studio Directors: Jorge Godoy Roman, Ana Zatezalo Schenk with Sjoerd Krijnen
PUBLIC LECTURES AND FINAL PRESENTATION
A number of international experts enriched the content of the programme with lectures that are open to the public.


Ricardo de Ostos, NaJa & deOstos, AA School London 

15 Aug 2018 at 6:00 pm
Animal Visions
Ricardo de Ostos creates speculative fictions that envision architectural projects in shifting environmental and cultural contexts. Reacting to contemporary displacement patterns, his publication Scavengers and Other Creatures in Promised Lands is a provocative architectural exploration of how radical cultural practices and time-based spaces enable a new set of architectural responses.

Emanuele Coccia, Associate Professor, Ecole des Hautes Etudes en Sciences Sociales, Paris 

16 Aug 2018 at 6:00 pm
Pollination and Interspecific Agriculture

Emanuele Coccia is a French philosopher. His books includes Sensible Life: A Micro-ontology of the Image (Fordham University Press 2016) Goods: Advertising, Urban Space, and the Moral Law of the Image (Fordham University Press 2018) and The Life of Plants (Polity 2018). He currently works on a book on metamorphosis.
and

Christopher Pierce, Director of AA Visiting School, London

16 Aug 2018 at 6:00 pm
Recipes for Food and Architecture
Christopher Pierce is the director of the Visiting School programme of the Architectural Association. He will share a perspective on the Animalesque Visiting School in a wider context.

Place: ANCB The Aedes Metropolitan Laboratory, Christinenstr. 18-19, 10119 Berlin
The Final Presentation will take place on the 17th of August, if you would like to join the review, please send an email to Ana Zatezalo Schenk at [email protected]
For more information please visit: animalesque.aaschool.ac.uk