PUBLIC DEBATE
Open Architecture: Migration, Citizenship, and the Urban Renewal
of Berlin-Kreuzberg by IBA 1984/87
Monday, 12 August 2019
A lecture by Esra Akcan, Associate Professor at Department of Architecture, Director of the Institute for European Studies at Cornell University, Ithaca/NY
Within the frame of the Design Studio by the University of Melbourne, led by Michael Roper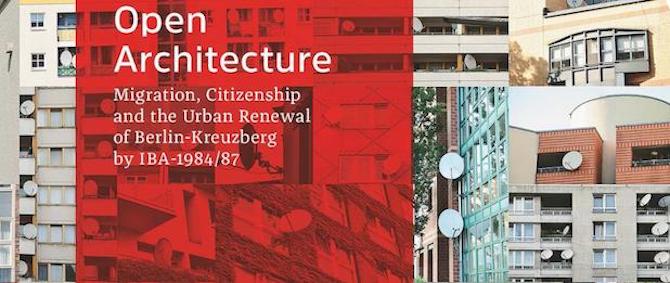 Exploring the implications of the concept of 'open' as a common metaphor in the era of global connections, and as a foundational modern value albeit prone to contradictions, Akcan's latest book defines open architecture as the translation of a new ethics of hospitality into the design process.
In particular, it exemplifies inclinations towards an open architecture (or the lack thereof) in the context of the discriminatory housing regulations of an urban renewal development in Berlin's immigrant neighbourhood Kreuzberg: The International Building Exhibition in Berlin, IBA 84/87, was one of the most important architectural events of the 1980s, where ideas of established and up-and-coming international architects materialized as social housing in the divided historical city.
Giving voice not only to architects and policy makers, but also to residents through oral history and storytelling, the overarching theme of noncitizen rights to the city allows for a joint discussion of the history of the twentieth-century public housing, participatory, postmodernist, and poststructuralist architectural debates, and the contradictory relations between international immigration laws and housing. In this lecture, Akcan will explain the theoretical framework and exemplify chapters from her book.
About Esra Akcan
Esra Akcan is Associate Professor at the Department of Architecture and the Director of the Institute for European Studies at Cornell University. She completed her architecture degree at the Middle East Technical University in Turkey, and her Ph.D. and postdoctoral degrees at Columbia University in New York. She taught at UI-Chicago, Humboldt University in Berlin, Columbia University, New School, Pratt Institute in New York, and METU in Ankara. Akcan received awards and fellowships from the Radcliffe Institute for Advanced Studies at Harvard University, Graham Foundation, American Academy in Berlin, UIC, Institute for Advanced Studies in Berlin, Clark Institute, Getty Research Institute, Canadian Center for Architecture, CAA, Mellon Foundation, DAAD and KRESS/ARIT. She is the author of Landfill Istanbul: Twelve Scenarios for a Global City (2004); Architecture in Translation: Germany, Turkey and the Modern House (2012); Turkey: Modern Architectures in History (with S. Bozdoğan, 2012), and Open Architecture: Migration, Citizenship and Urban Renewal of Berlin-Kreuzberg by IBA 1984/87 (2018).