WORKSHOP
Beijing Institute of Fashion Technology
3 - 19 August 2019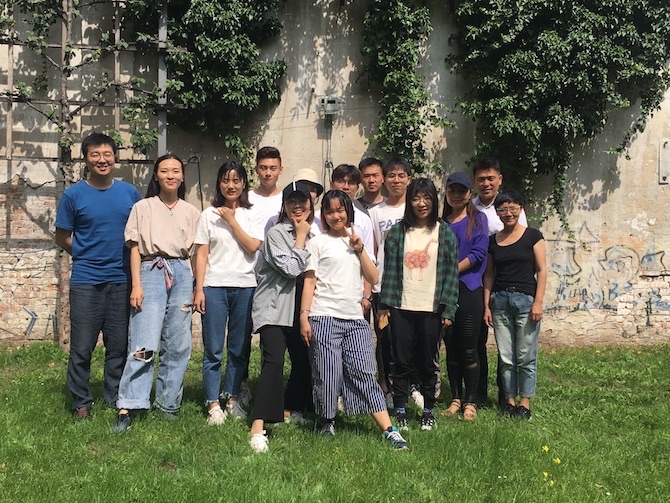 BIFT Architecture & Design Innovation Workshop
This Summer Design Studio is the third in a series of three workshops by environmental architecture students of the Beijing Institute of Fashion Technology.
Every year the summer school examined Berlin under a unique theme. In 2017, 21st Century Housing Typologies were in focus, 2018 Urban Surface as a Social Media and in 2019 Common Spaces of the Berliner Hof.

Phase 3: De-Co-Incidence: Berlin Hof: Strategies for Common Space
Berlin will have a new airport and the existing Tegel airport will be a renewed urban area. This is not only a chance for renewing an important part of city but also the chance to redevelop the city for the future. This is examined by the BIFT Architecture and Design Innovation Project which took place in three 2-week workshops in 2017, 2018 and 2019.
Berlin has a large number of monuments and rich history, and presents a special case study with its broken and fragmented urban center. Groups of people living together on different layers. It is a challenge to integrate urban spaces into one, while keeping the city diversity and dynamic.
Three workshops three targets: First students identified a project site study and urban setting in Berlin. Second they explored the urban surface as a social media. Third prototyping new hof as a tool of common space for urban and architectural development.
Berlin is famous for its block and hof, similar to the famous Hutong (court yard) in Beijing, it provided people with a single image for the city. Students will study and argue about the definition of the Berlin hof - is it introverted or extroverted? Collective or common? Is it a coincidence to find a Berlin hof with an active common life? Mapping, sorting out, operation and reaction of the case study, become the process of de-coincidence and new possibilities.

Download the results of the summer school here (397,4 MB)
Studio Coordinators
Prof. Dr. Fei Che
Xuefeng Zhang
Weihan Li