PUBLIC DEBATE
New Praxes, New Tools: Emerging Slovenian Architects
Thursday, 16 June 2022
The ANCB lab talk in collaboration with SKICA Berlin – Slovenian Cultural Centre Berlin and the Centre for Creativity, Slovene Museum of Architecture and Design (MAO) will explore emerging contemporary Slovenian architecture and urbanism.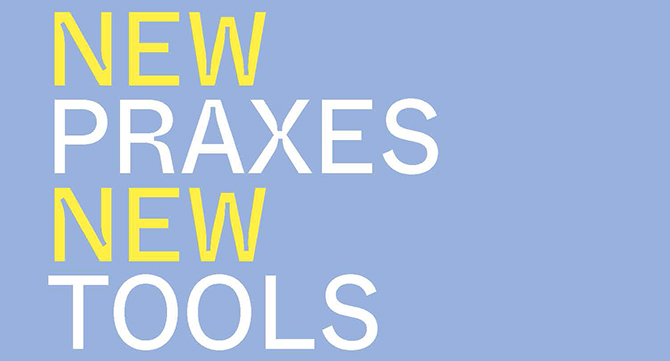 New Praxes, New Tools wants to introduce a new generation of architects in Slovenia to a German audience. Ten Slovene contemporary architectural practices, selected by curators Mika Cimolini and Matevž Čelik, have found new ways of establishing their approaches against the background of shifting missions of architecture, how it relates to society, to ecology, and to the organisation of space. Increasingly, architects have become mediators between users and space, custodians of heritage and spatial activists.

The lab talk will focus on the process of (co-)producing shared space such as public- and educational space and landscape as well as strategies to actively engage the public in the process of spatial planning. This includes the activation of in-between spaces in the city. Furthermore, the lab talk will examine social and material sustainability and architecture as a product of collaboration between architects, clients and policy-making to achieve a liveable and healthy environment as a common goal.

Ten architects from Slovenia will present their work in short 10 x 10 impulse statements, followed by a dialogue between two moderators involving the Slovenian architects who are joined by Berlin-based Front-Row Peers.
PROGRAMME
Welcome
Dunya Bouchi, Managing Director, ANCB The Aedes Metropolitan Laboratory, Berlin
Saša Šavel Burkart, Head of SKICA Berlin – Slovenian Cultural Centre Berlin
Introduction by the Moderators
Mika Cimolini, Head of Programme of the Centre for Creativity, MAO Slovenia
Theresa Keilhacker, President, Berlin Chamber of Architects

10 x 10 Impulse Statements
Ana Kreč, Architect, Co-founder, svet vmes, Ljubljana
Ambrož Bartol, Architect, Co-founder, ELEMENTARNA, Ljubljana
Maša Cvetko, Architect, Co-founder, Prostorož, Ljubljana
Jure Grohar, Architect, Co-founder, Vidic Grohar Arhitekti, Ljubljana
Goran Jakovac, Landscape Architect and Photographer, Pazi!park, Ljubljana
Emil Jurcan, Architect, Pula, Croatia
Andraž Keršič, Architect, Co-founder, a2o2, Ljubljana
Davorin Počivašek, Architect, Co-founder, Arhitekti Počivašek Petranovič, Ljubljana
Bika Rebek, Architect, Co-founder and Ngozi Olojede, Strategist, Some Place Studio, Berlin
Matic Vrabič, Architect, Co-founder, Mertelj Vrabič Arhitekti, Ljubljana

Dialogue
Mika Cimolini, Head of Programme of the Centre for Creativity, MAO Slovenia
Theresa Keilhacker, President, Berlin Chamber of Architects

With inputs from the Slovenian protagonists and Berlin-based Front-Row Peers
Luka Murovec, Architect, Berlin
Nina Peters, ZUsammenKUNFT Berlin eG, Genossenschaft für Stadtentwicklung, Berlin
Ilka Ruby, Ruby Press, Berlin
followed by reception and networking
In collaboration with Saša Šavel Burkart, Head of SKICA Berlin – Slovenian Cultural Centre Berlin and the Centre for Creativity that operates within the Slovene Museum of Architecture and Design (MAO)