PUBLIC DEBATE
No Apocalypse Now!
Water as Leverage – design driven catalyst for climate action
Saturday, 20 August 2022, 9 am
A keynote lecture by Henk Ovink, Special Envoy to the UN and Water Ambassador of the Netherlands. Within the frame of the Bucerius Summer School workshop at ANCB in collaboration with the ZEIT-Stiftung Ebelin und Gerd Bucerius, Hamburg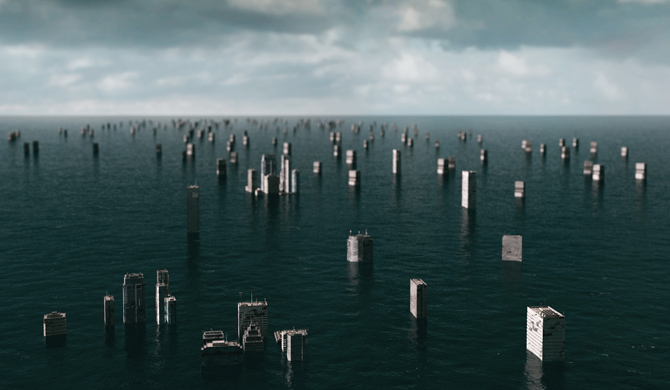 In this public keynote lecture Henk Ovink will address the current and future climate and sustainability challenges and focus on using water's unifying and collaborative capacity as a lever to design, progress, scale and speed up inclusive and innovative climate programmes, in partnership with all and by design.
The lecture will set the scene and provide input for the following closed workshop session with the Bucerius Summer School participants, which are young international professionals from various disciplines.
This year's topic is Apocalypse Right Now!: We assume that the world in 2030 is still under constant stress. The manifold crises of today accelerate and intensify the uncertainty of a safe future. The workshop participants will develop crisis response plans – taking into account societal and spatial measures – for two scenarios: Defending the City of the Future and The Age of Global Diseases.
PROGRAMME
Welcome
Hans-Jürgen Commerell, Director, ANCB The Aedes Metropolitan Laboratory, Berlin
Sascha Suhrke, Director, Head of Politics and Society, ZEIT-Stiftung Ebelin und Gerd Bucerius, Hamburg 

Keynote Lecture
Henk Ovink, Special Envoy to the UN and Water Ambassador of the Netherlands, The Hague

Q & A

moderated by Eberhard Sandschneider, Dean, Bucerius Summer School on Global Governance, Berlin
ABOUT BUCERIUS SUMMER SCHOOL
The Bucerius Summer School on Global Governance, conducted by the ZEIT-Stiftung in cooperation with the Observer Research Foundation, is an annual intensive 11-day summer seminar with the aim to foster leadership qualities among young international professionals by opening a cross-border and transdisciplinary dialogue on current questions of global relevance and providing a platform, where leaders of tomorrow jointly discuss and develop ideas.
Since 2016, ANCB has been regularly invited to curate one-day programmes within the frame of the Summer School that combine inspiring input lectures by international experts with hands-on workshops, where the participants collectively tackle current issues by translating political measures into spatial planning in creative and unconventional ways. Previous subjects include: Art. Architecture. International Politics: Transit Spaces (2019), Science. Fiction. International Politics: Visible and Invisible Borders (2018), The Perfect City Block: How do we want to live together (in the future)? (2017) and Urban (in)securities: Science. Fiction. International Politics (2016).
The climate crisis is a water crisis. Nine out of 10 natural disasters are water related. Between 2001 and 2018, droughts, floods, landslides and storms caused over US$1.700 billion in damage worldwide, according to the UN, impacting over 3.4 billion people, the majority in Asia. Without water, there is no energy and no food. But too much water and ever-increasing 'extremes' also go hand in hand with far too little water – periods of drought align with the flow of refugees and increased conflicts. We are depleting our natural water supplies at a ruinous rate, and sea level rise is jeopardizing our cities and deltas.
The choice between prevention and repair is false. Both are essential. We need to start at the source: reduce greenhouse gasses and make efficient and careful use of our planet and all of its resources. Yet at the same time, we need to prepare boldly, comprehensively and inclusively for tomorrow's extremes. Our human-made systems are simply not fit for that future. We need a new approach, one that is rigorously inclusive, innovative and comprehensive, with everything and everyone working together from beginning to end. A mechanism through which future understanding becomes an inspiration and drives innovation forward, and which includes everyone in the process. With a better collective understanding of the future, we can gain a better idea of how to fund innovations arising from that understanding. These are the millions we need to invest to secure the billions for the projects that will really make a difference and prepare our society and planet for our challenging future.
ABOUT HENK OVINK
Henk Ovink was appointed as the first Special Envoy for International Water Affairs in 2015 by the Cabinet of the Netherlands. As the Ambassador for Water, he is responsible for advocating water awareness around the world, focusing on building institutional capacity and coalitions among governments, multilateral organisations, the private sector and NGOs to address the world's pressing water needs and help initiate transformative interventions. He is also Principal for Rebuild by Design, the resilience innovation competition he developed and led for President Obama's Hurricane Sandy Rebuilding Task Force. Water as Leverage is the programme Henk Ovink initiated to spur collaborative action, to identify needs and opportunities while building partnerships across all layers of society, across all institutions and their silos, across everything and everyone. Water as Leverage is living proof of both the need for action and the opportunities we can implement, if only we drive our actions inclusively, holistically and sustainably.