PUBLIC DEBATE
Reinventing Rural Regions
Wednesday, 28 September 2022
Public lectures by architects Xu Tiantian, Beijing, Tei Carpenter, New York and Christoph Hesse, Korbach within the frame of Yale University's Design Studio at ANCB.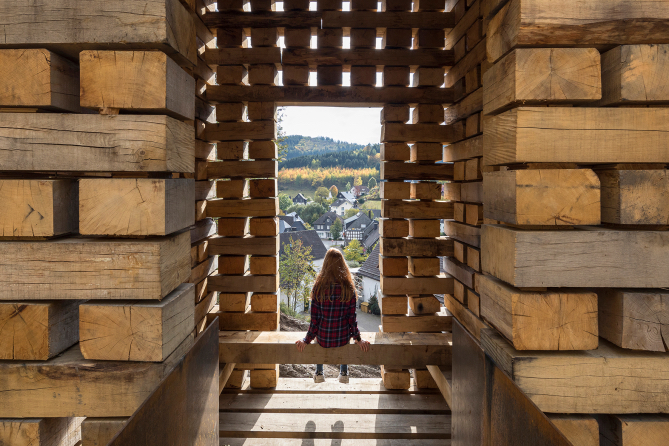 © Laurian Ghinitoiu
The speakers will present examples from their work and research on rural revitalisation and holistic strategies for landscapes and small towns in China, Germany and the United States.
These public lectures will kick off Yale University's Design Studio at ANCB, led by Xu Tiantian and Tei Carpenter in collaboration with Christoph Hesse. Students from a range of disciplines will explore heritage and identity as well as engage social and architectural interventions to reinvent the village of Referinghausen in Hessen, where the community will act as the client of the studio. At the same time, they will critically examine and propose rural and urban connectivity strategies between the village community and its relationship as a potential cultural satellite to the city of Kassel.
PROGRAMME

Welcome
Dunya Bouchi and Miriam Mlecek, ANCB The Aedes Metropolitan Laboratory, Berlin
Lectures
Xu Tiantian, Director DnA_Design and Architecture, Bejing and Professor at Yale University, New Haven
Tei Carpenter, Director Agency-Agency, New York and Lecturer at Yale University, New Haven
Christoph Hesse, Director Christoph Hesse Architects, Korbach/Berlin
Q&A
with the audience

Followed by a reception in the Aedes exhibition local & transcultural by PLAYZE architects | Berlin, Basel, Shanghai

This event is part of the ANCB theme Regions on the Rise exploring strategies and creating new visions for the development of rural regions of the future.
ABOUT THE SPEAKERS

Xu Tiantian is the founding principal of DnA _Design and Architecture. She has received numerous awards such as the Moira Gemmill Prize for Emerging Architect in 2019, and the 14th International Prize for Sustainable Architecture Gold Medal. In 2020, she was appointed an Honorary Fellow of the American Institute of Architects. Xu Tiantian has engaged extensively in the rural revitalising process in China. Her groundbreaking Architectural Acupuncture is a holistic approach to the social and economic revitalisation of rural China and has been selected by UN Habitat as a case study of Inspiring Practices on Urban-Rural Linkages. Xu Tiantian received her Master of Architecture in Urban Design (MAUD) from Harvard Graduate School of Design and her Baccalaureate in Architecture from Tsinghua University in Beijing.
Tei Carpenter is founder and director of Agency—Agency, a New York City based architectural design practice. Trained in philosophy and architecture, she specialises in cultural, residential and public installation projects. Tei Carpenter / Agency—Agency has been honoured as a winner of the League Prize by the Architectural League of New York, the 2018 New Practices New York by the American Institute of Architects and included in Domus Magazine's 2019 list of the Best 100 Architecture Firms. The studio's work has been has been exhibited internationally at venues including the Storefront for Art and Architecture, the Venice Biennale and the Oslo Triennale. Tei has taught design studios at Brown University, Columbia GSAPP, the University of Toronto, and Rice University where she was the Wortham Visiting Lecturer. Currently, she is a Critic at the Yale School of Architecture.
Christoph Hesse received a Master of Architecture from ETH Zurich and a Master of Architecture in Urban Design with Distinction from Harvard University, Graduate School of Design. In 2010, he founded ChristophHesseArchitekten in Korbach. In 2018, he established a branch office in Berlin. Christoph Hesse was appointed to be a member of the Association of German Architects BDA in 2019. He has taught and researched at ETH Zurich, Harvard University, Ho Chi Minh City University of Architecture Saigon, TU Darmstadt, Cairo University, Universität Kassel and Tianjin University. Currently, he is Visiting Professor in Architecture at Tsinghua University Beijing and Visiting Design Critic in Architecture and Urban Design at Hong Kong University .
Photos © Liz Eve